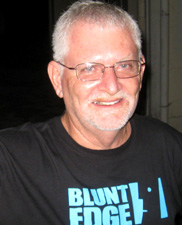 He has exhibited over 30 solo shows of his artworks since 1985. His curated survey exhibition of sculptural works, 'From a Garden Somewhere' toured regional galleries across Queensland 2003-2006.
He has completed over 20 public art projects across Queensland since 1996.
ARTIST STATEMENT
"I enjoy travelling and document a lot of what I see but it is usually shapes, colours and light that I observe in my own garden that become worthy elements in my artworks."
Since his art college days the artist has established tropical gardens featuring rare palms in Brisbane, Innisfail and Cairns.